TIS Self-Service
Help section
How do I set up an Authenticator App on my phone?
My personal data is wrong. How do I update it?
How do I save my Form R as a PDF?
Background
The TIS Self-Service application will enable a trainee to log in and see some data HEE hold. It will also enable the completion of the Form R process for junior doctors. Over time we will add data and functionality which will include response to feedback received from Trainees.
In the TIS product development team, we have started working on the TIS Self-Service application. We are now at the point where our development work is more visual and interactive.
To build the best product possible, the team are engaging with a selection of trainees to get regular feedback. With this, we can adapt and make sure the product fits trainees' needs. This in turn will ensure successful adoption once completely released.
Pilots & Rollout
Following the successful pilot testing of TIS Self-Service system we are pleased to say that majority of trainees who took part in the pilot rated their experience 8/10. We used the pilot feedback to make further improvements such as additional method to authenticate to protect your data and faster way for trainees to sign up to the system in preparation for the wider release.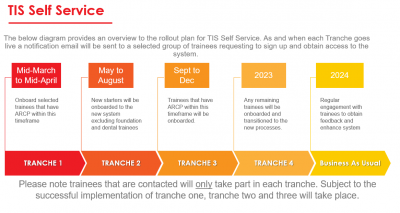 ---